Cats love grass! They love to lay in it, roll around in it, chew on it (and throw it up). My cats are allowed outside in my fenced and cat-safe backyard, but what if your cats have no outdoor access? There's a solution for you…the Kitty Lawn! Join me in this Kitty Lawn review and see if it's something your cats would like. If so, use the code AMBERCARTER for 10% off! 
*FTC Disclosure: This post contains affiliate links. If you make a purchase after clicking on the links, I will get a small commission at NO additional cost to you. I only recommend products that I believe in! I am an affiliate for both Amazon and other online retailers. As an Amazon Associate I earn from qualifying purchases.
Ahh, the feel of grass between your little paws. Most cats seem to love this. I know mine do. 
My cats didn't always go outside. In fact, up until the last few years, I didn't even have a screened porch for them. 
When we bought our current home it had a screened-in pool area which was wonderful for the cats. I only wish the previous cats in my life could have experienced it. 
Ultimately the screen was in rough shape so we decided to tear it down. But where would that leave the cats? They loved the fresh air and lying in the hot Florida sun on the safe, screened porch. 
We decided to make our backyard cat-friendly through a number of ways, one of which was to build a fantastic catio from Habitat Haven, decorated with outdoor-friendly cat furniture from Kuranda. We chose the Lion's Den option.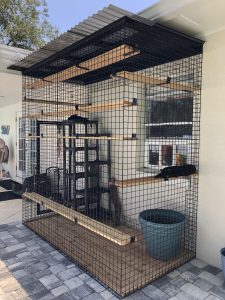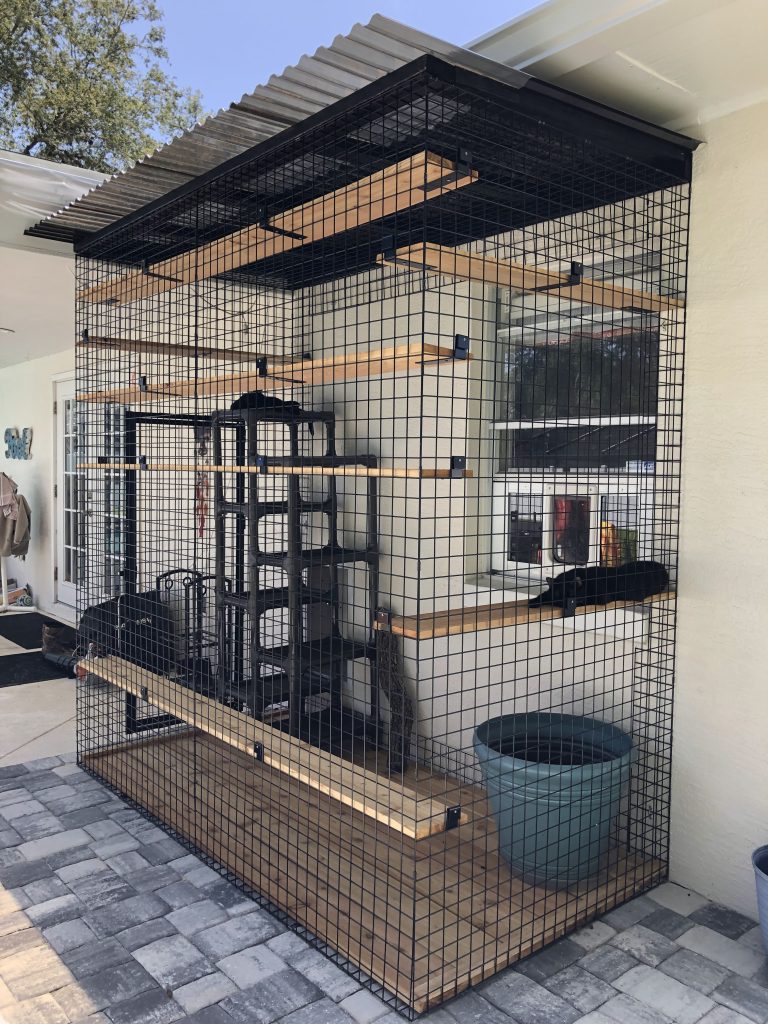 We also made the actual yard cat-friendly with the installation of the Purrfect Fence along a section bordering a wood pile (that Biscuit likes to climb on). Stay tuned for an upcoming post on all the ways we made our backyard cat-friendly. 
However, many people do not have the option of letting their cats outdoors. I absolutely get that! Some would even blast me for suggesting that any cat be let outside. However, in the UK a large proportion of cats go out! 
What about the birds? We don't have a lot of birds that come in our yard (minimal trees). Nonetheless my cats wear these cool "Beau's Bells" that let birds (and each other other) know they are near. In Florida we do have little lizards and the cats get a big kick out of chasing them.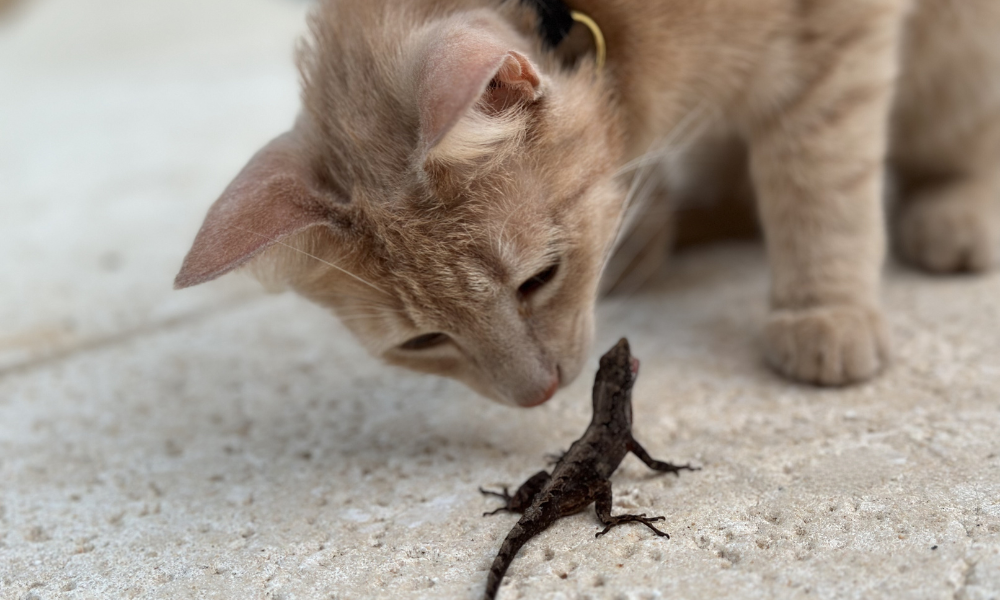 I say that if you can give your cat SAFE outdoor access (not galavanting all over the neighborhood) then go for it. It provides SO much enrichment for them! 
This assumes that they are interested in going outside. Never force a cat to go out if she doesn't want to. 
Our indoor cats often lack the environmental stimulation that outdoor cats get. We can attempt to recreate this with feeding puzzles, indoor-hunting feeders and perches at the window. 
Another fun project is to grow your own indoor cat grass or catnip to chew on. I like this one in this cute planter. I have it on my catio. If you have the patience to watch grass grow, then go for it! 
But what about actual grass for your cat to lay on and experience? Enter Kitty Lawn! 
Kitty Lawn Review – Part I – What the heck is it? 
Kitty Lawn is a patch of real grass delivered to your home on either a one-time basis OR an ongoing subscription at a frequency of your choosing. What a great idea! 
It's grown in California and the grass is called Rye Blue. It's a

hybrid grass of Ryegrass and Kentucky bluegrass.
You can choose from the standard 24″ x 9″ size or upgrade to the new luxury size Kitty Lawn that's 24″ x 16."
What your cats do with it is up to them. Lay in it, roll in it, hide things in it… the possibilities are endless. 
Kitty Lawn – Part II – What's it cost? 
Depends on your order! It's $31.95 for a one-time purchase. But if you choose Autoship you'll save 25% for a cost of $23.96. You can choose to have it delivered every 1-8 weeks – whatever you like. Plus you can cancel or modify at anytime. There is NO obligation! 
For $21.99 you can add on a bamboo frame. This looks much nicer than the cardboard it comes in, but it really depends on where you're going to place it. On the website I saw it placed in front of a litter box… brilliant!
Don't forget FREE shipping on all Kitty Lawn orders AND an additional 10% off with the code AMBERCARTER. 
Kitty Lawn Review – Part III – Panther, Apache and Louie try it out. 
First, I used my own money to purchase Kitty Lawn for our three hospital cats at Cat Care Clinic and I received no compensation for writing this Kitty Lawn Review. It's my own opinion. Well, actually it's the cats' opinion; I'm just the note-taker. 
I initially purchased Kitty Lawn for our hospital cats: Apache, Panther and Louie. As far as we know, none of them had ever been outside.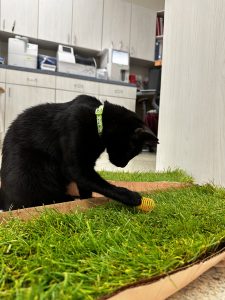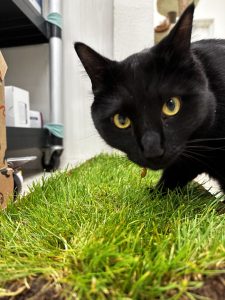 Now, these are cats that have a ton of environmental stimulation in our busy feline hospital. They were immediately curious. We sprinkled some catnip on it to entice them. Overall, they enjoyed it just like any other new piece of enrichment we provide for them.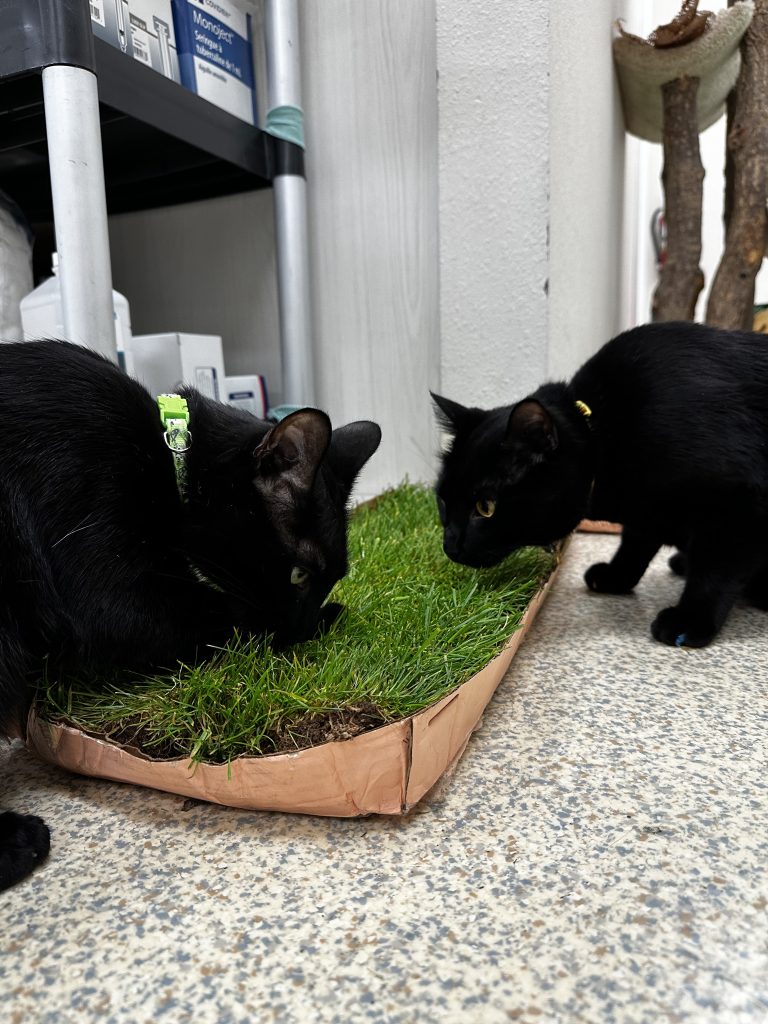 Next, I took it home to my three cats. I think they enjoyed it even more, even taking a few bites of it.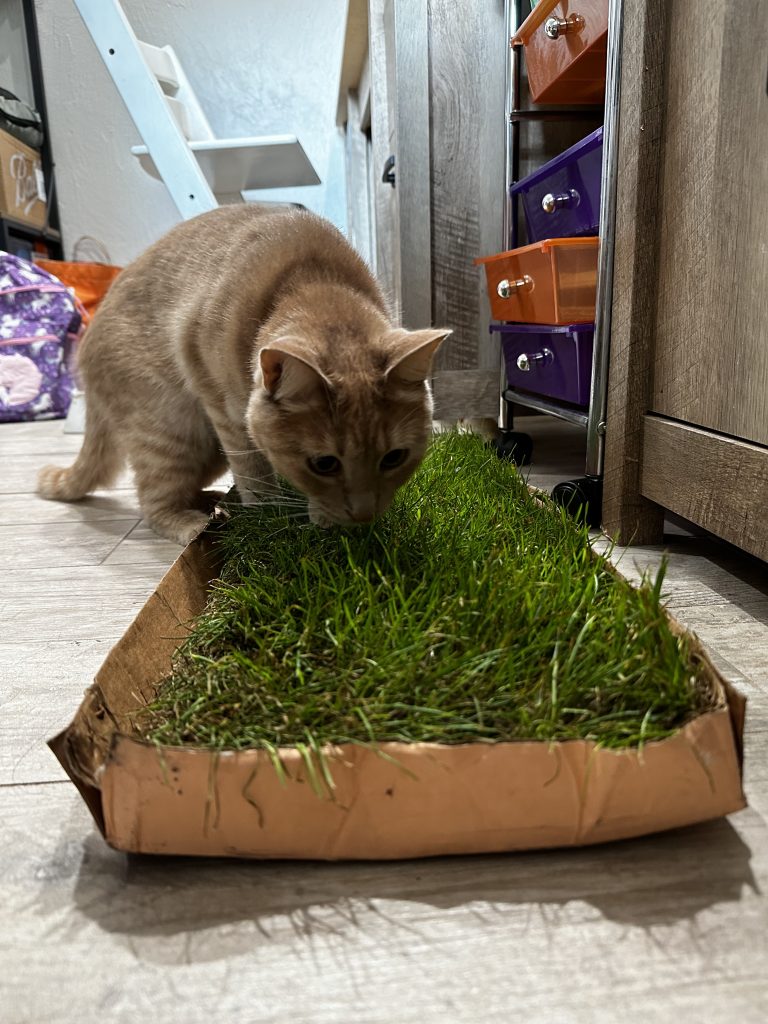 Kitty Lawn Review – Part IV – FAQs 
It's grass so… does it need water? 
Water it as needed but not right before your cat is going to lay on it. The occasional watering will extend the life of the lawn. Watering is hard for me to remember to do. My Kitty Lawn review says "Who Cares!" 
My grass eventually turned brown. 
Of course it did. It's real grass! But guess what? The cats don't care! If you read my article on cat treats you'd know more about how cats see color. 
Should it go inside or outside? 
Wherever you want! Just don't leave it outside while it's raining. I initially had mine inside our feline hospital, then took it home and put it out on our catio. 
How long does it last? 
Depends. Is it inside? Outside? In the sun? Shade? What's your climate? Nonetheless, you'll likely want a new Kitty Lawn every few weeks. 
My Kitty Lawn Review – In summary… 
After completing my Kitty Lawn review, I definitely recommend to try Kitty Lawn for your cat. Ask THEM what they think about it! Chances are, they'll love it! 
Don't forget to use the code AMBERCARTER for 10% off!