Real Men Love Cats!
A man in a cat-themed shirt…Oh yeah! Every time my husband wears one of his cat shirts he gets SO many compliments! As we all know, there's nothing cooler than cats! Want to see some cool cat t-shirts for men? Let's go!
Now don't get me wrong, ANYONE can wear these T's. They are not "just" for men. Some of them even come in different fits (traditional man / woman / child / etc). Many of them have a default picture in black, but they also come in a wide variety of color choices. If you love it, go for it!
Here are 10 of my favorite cat T-shirts for men…
*FTC Disclosure: This post contains affiliate links. If you make a purchase after clicking on the links, I will get a small commission at no additional cost to you. I only recommend products that I believe in! I am an affiliate for both Amazon and other online retailers. As an Amazon Associate I earn from qualifying purchases.
1. The Cat Daddy T – I had a big, blue, British Shorthair patient once named Cat Daddy and I'll never forget him because he had an uncommon feline disease called Diabetes Insipidus (not the kind of diabetes you normally think about!). Here's to you, Cat Daddy!
2. The So-Cal Black Cat T – I just made up that name myself because it seems to fit. If you want the retro cat look without the words like in the previous example, this one is fun. I have this one myself! I have 2 black cats at home (Biscuit and Sioux) and 2 that live in my feline-only veterinary practice (Panther and Louie). Black cats are the bomb. Let the world know.
3. Pete the Cat – If you follow CatVetLife long enough you will learn of my infatuation for Pete the Cat. He's the ultimate cool dude. Don't you want to just give him a big kiss on the lips? He's the type of cat that would be all in for a smooch! In my home we have Pete the Cat clothes, books, stuffed animals, fancy artwork on the walls and, dare I say it, a D.O.G. named Pete the Cat. Every year at Christmas we all get a new Pete the Cat shirt.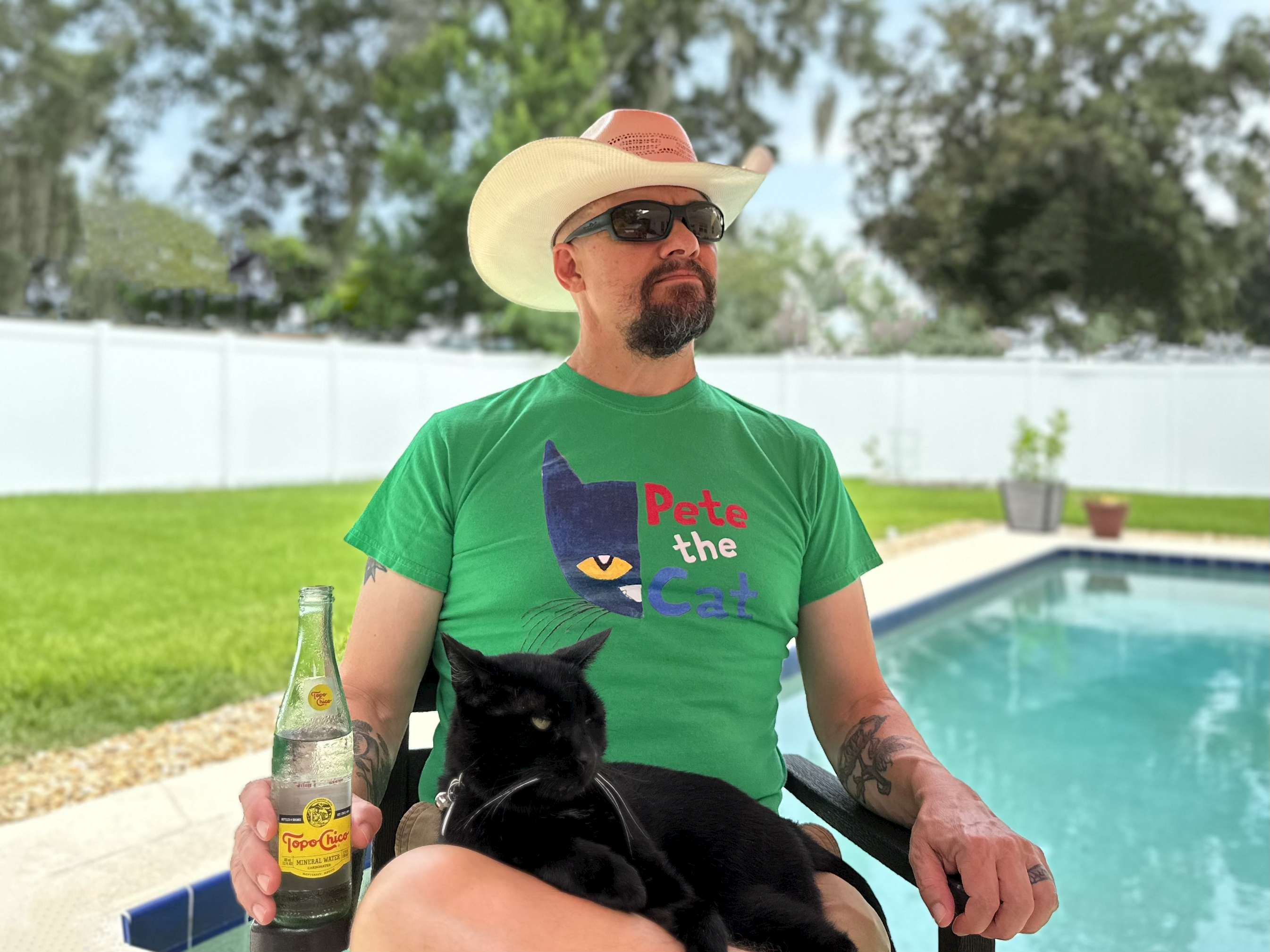 4. The Samurai-Ninja Cat T – This T says, "Hey. I do what I want. You got a problem with it? I didn't think so."
5. The Motorcycle Cat T – My husband loves motorcycles and before we met he hadn't owned a car in years. He was a sport-bike rider and had spent months traveling the country on his bike. He definitely had the bad-boy look and anyone in this T will too!
6. The Cats Rock T – This is like Pete the Cat on steroids. (Did you know Pete plays the guitar? Well, now you do.) For the musical cat lover in your life!
7. The Hawaiian – Ok, so it's not a t-shirt, but someone needs to get this one and send me a pic. Y'ALL, IT'S CUSTOM! YOU CAN HAVE YOUR OWN CAT PRINTED ON THE SHIRT! My husband would totally wear this (we live in Florida, so a Hawaiian shirt fits in just about anywhere). Talk about the ultimate conversation piece!
8. The Killer T – Got a twisted sense of humor? If so, this one is right up your alley.
9. The Vintage Catnip T – Love vintage? Then you'll love this one. This T reminds me of a movie you'd watch at an old drive-in theater.
10. THE CATZILLA T – Yes, that was in all caps on purpose! Cats are just BADA$$. There I said it. Catzilla fits that bill! It comes in a variety of colors as well.
Did I say 10 shirts? I can't stop. Here's #11 for good measure. And now, rounding out "Cat T-shirts for Men…"
11. The Nepetalactone T – Say what?!? Nepetalactone is the chemical name for the active ingredient in catnip and this is what the molecule looks like. If you wear this one you're pretty much declaring your nerd status…which is a good thing! For the ultimate cat intellectual.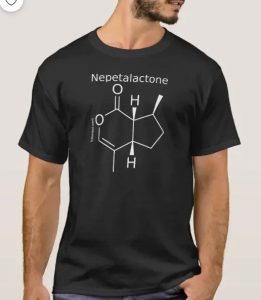 Buy a shirt. Send me a pic. Be an advocate for cats! Which one is your fave? Comment below…
P.S. If you like cat-themed fashion, check out my post on leopard print shoes for women! My favorites!