A Cattasaurus Cat Cave? It sure has a catchy name, doesn't it?  I don't even remember how I stumbled upon it, but once I saw this cave I knew I had to have it! I decided to order three of them, and in only a few days a huge box arrived with each cave in its own box inside. I bought one for my three cats (Biscuit, Sioux and Bacon), one for our feline-only veterinary hospital cats (Apache, Panther and Louie) and one for a staff member and her cats (so she could take some awesome pictures for me).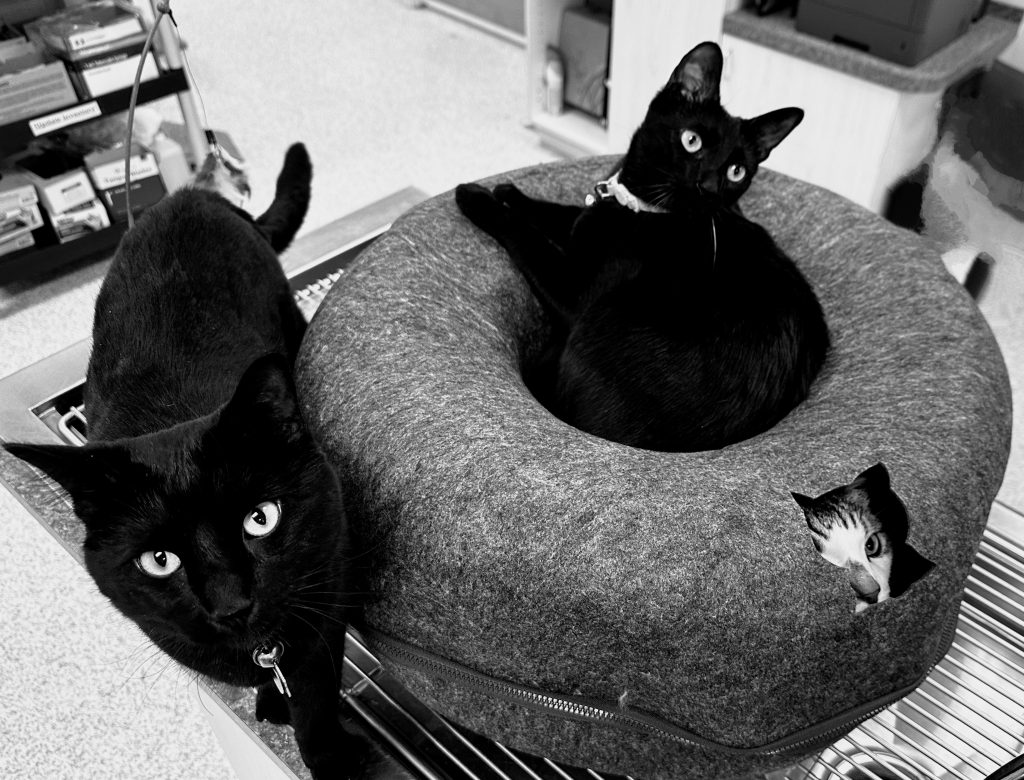 *FTC Disclosure: This post contains affiliate links. If you make a purchase after clicking on the links, I will get a small commission at NO additional cost to you. I only recommend products that I believe in!
What is a Cattasaurus Cat Cave?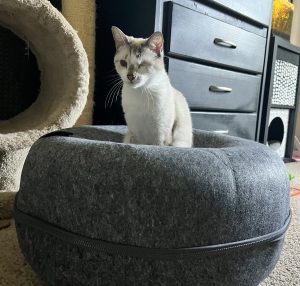 The Cattasaurus Cat Cave is a large, firm, soft, donut-shaped hiding cave/tunnel for cats. As a bonus, the middle of the cave is a comfy relaxing spot just perfect for a cat to curl up in. As a double bonus, there is a cutout of a cat's face (aka the "peephole") at the top/back of the cave so they can stick their head or paws out.
It's also STYLISH! There are a million and one cat caves to choose from in the world, but that doesn't mean you have to downgrade your style. Yes, you can have cat decor in your house and still maintain whatever "look" your home has!
Cats love to hide in quiet, dark spaces. It makes them feel safe, secure and in charge of their surroundings. The Cattasaurus allows them to do just this, with the option of peeking out to see the world!
Some of the features of the Cattasaurus Cat Cave mentioned on the company website, that I can 100% attest to, include:
Claw-resistant felt
This cat cave is sturdy! There's no collapsing that's going to happen here. When you take it out of the box you have to zip it together and that's it. You can also punch out the felt a bit to help mold the shape a little after it's been in the box.
A high-quality zipper
Yep, it's also super strong. Once you zip it closed the only time you'd need to unzip it is if you want to spot clean in on the inside.
A spacious tunnel
Would you believe that two cats can actually fit inside? Of course, they may love or hate that idea, but it's their choice. Oh, then cat #3 could sit on the top. Now you've got a cat party going on as they get some crazy, lazy relaxing time in!
Other Cattasaurus Cat Cave Details
The company does sell some other products as well, like a Rameow Noodle Cup cat bed (so cute), but the Cattasaurus cat cave is my favorite.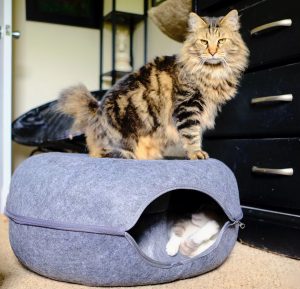 The Cattasaurus cat cave comes in FOUR colors: Light Gray, Dark Gray, Whispering Sky Blue and Cotton Candy Pink. The latter two colors (pink and blue) are also available in the "original" version with no peephole. Trust me, get the newer version with the peephole!
Want one (or three) of your own? Click here or use the code AMBER20495 for 10% off your purchase after visiting the website.
It comes with a 12-month warranty and 90-day return policy. But you won't want to return it!
Do your cats love to hide? What funny places do they like? Comment below! PS – Check out my post on some of my favorite cat carriers – another great place for cats to hide in at home and feel safe!