Happy Almost Fall! I'm seeing back-to-school pics on social media, so we're getting close. Start your fall shopping now or that item you've been eyeing won't be there next time. Fall is my favorite season which means black cat fall decor abounds! 
If you've known me for five minutes you know that black cats are my favorite. I love all cats, but I just have a thing for all-black cats.  In fact, I have four of them.
Biscuit and Sioux live at home. Panther and Louie live at Cat Care Clinic.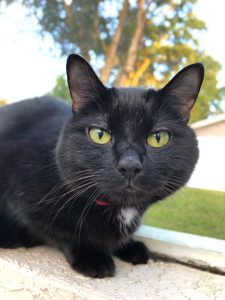 You've seen the signs "Happy Fall Y'all!" In our house, it's more like "Happy Feline Fall Y'all!"
Fall is my favorite season for many reasons. The change in the air (that means in Florida it goes from really hot to just hot). College football season. Fall clothes (love those sweaters and jeans). Back-to-school (I always loved school and as a homeschooling mom it's a fun, fresh start to the year). 
As far as fall decor goes, pumpkins, scarecrows, and hay bales may be cute, but nothing beats a black cat. So let's start prepping now! 
Here are my top Black Cat Fall Decor Finds: 
*FTC Disclosure: This post contains affiliate links. If you make a purchase after clicking on the links, I will get a small commission at NO additional cost to you. I only recommend products that I believe in! I am an affiliate for both Amazon and other online retailers. As an Amazon Associate I earn from qualifying purchases.
For Your Yard (aka If you want the coolest cat house in the neighborhood)
Yes! The featured picture for this post is one of MY prized possessions. I don't just talk the talk…
He's a 20′ tall black inflatable that we've named Bagheera. Every year we look forward to his arrival. These sell out so fast!
Not into an inflatable that is taller than your home? This guy is only 6′ tall and his friend Gemmy is only 4′. Wouldn't they look cute together?
Ok, so you want to go a little more subtle. Fine. If you can't find anymore of these 4′ tall black inflatable cats it's because I may have just bought the last two. Sorry!
To complement your inflatables (or not), these spooky glow-in-the-dark skeleton cats are cool. They come in a 4-pack, which meant 16 for me. They surround Bagheera, protecting him! For the same effect but a little less "day of the dead," these black yard cats are amazing as well.
Not into the Tacky-Chic look? Is Modern-Farmhouse more your style? Then obviously you'll need a garden flag, wreath and door mat.
Black Cat Fall Decor – Inside the Home
Like that garden flag? You'll be happy to know you cat get matching accent pillows.
Now pair that with one of two table runner choices:
Classic or spooky – you decide!
Party Time! Black Cat Fall Decor Inside! 
Having a Halloween / Fall party? No? Maybe you should! It's a great excuse to have a black cat themed party. Here are your essentials:
First, get a black Christmas tree and decorate it with over 16′ of black cat string lights and these wooden hanging ornaments.
Next, these black glitter cat cupcake toppers are so fun! Of course, don't forget the napkins.
What to wear to the party? This Feral Girl Fall T-Shirt!
There you have it. Plenty of black cat fall decor choices. Before we go, here's a sneak peak at my Black Cat Winter Decor post. You knew that was coming! Yep. A Cats and Christmas shirt!
P.S. If you like cat t-shirts, check out my cat t-shirts for men post!
What's your cat's favorite season? Comment below!