Subscription boxes. Yes, I love them. And apparently, Panther does too. Join me as we interview Panther about his meowbox subscription review. 
*FTC Disclosure: This post contains affiliate links. If you make a purchase after clicking on the links, I will get a small commission at NO additional cost to you. I only recommend products that I believe in!
The meowbox Subscription – A Little Background Info
First, no one paid me anything to write this meowbox subscription review. I spent my own hard-earned cash to purchase this subscription box for Cat Care Clinic's house panther (aka hospital cat), appropriately named Panther!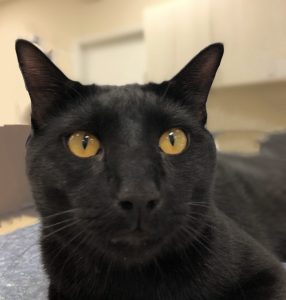 Yes, he looks like a black panther. Except that he wears Soft Paws so that if he attacks us when he's feeling frisky we will not bleed to death. 
I've always liked subscription boxes because it's like a little surprise gift in the mail (even for my grocery box that I know the exact contents of). This one was no different. 
The meowbox Subscription – So What's It All About? 
meowbox is a subscription box for cats. Well, it's for you too. Because you love your cat and want to see her happy. Then you will be happy. 
Happy cats = happy people. 
Need another excuse for a meowbox subscription? What a perfect gift for any cat lover! The holidays will be here before you know it.  Check out this post for another amazing cat lover gift…
For a set fee of $25.95, your cat gets 5-6 high-quality items delivered to your doorstep at the frequency you choose. This can be monthly or every other month. Of course, you can cancel anytime. 
*Bonus feature: free shipping. Yay! I can't stand to pay for shipping. You? 
First, they asked me the name of my cat(s). I could've chosen Bacon, Biscuit, Sioux (my house cats), Apache or Louie (our other hospital cats), but I picked Panther. I knew he'd take this review seriously.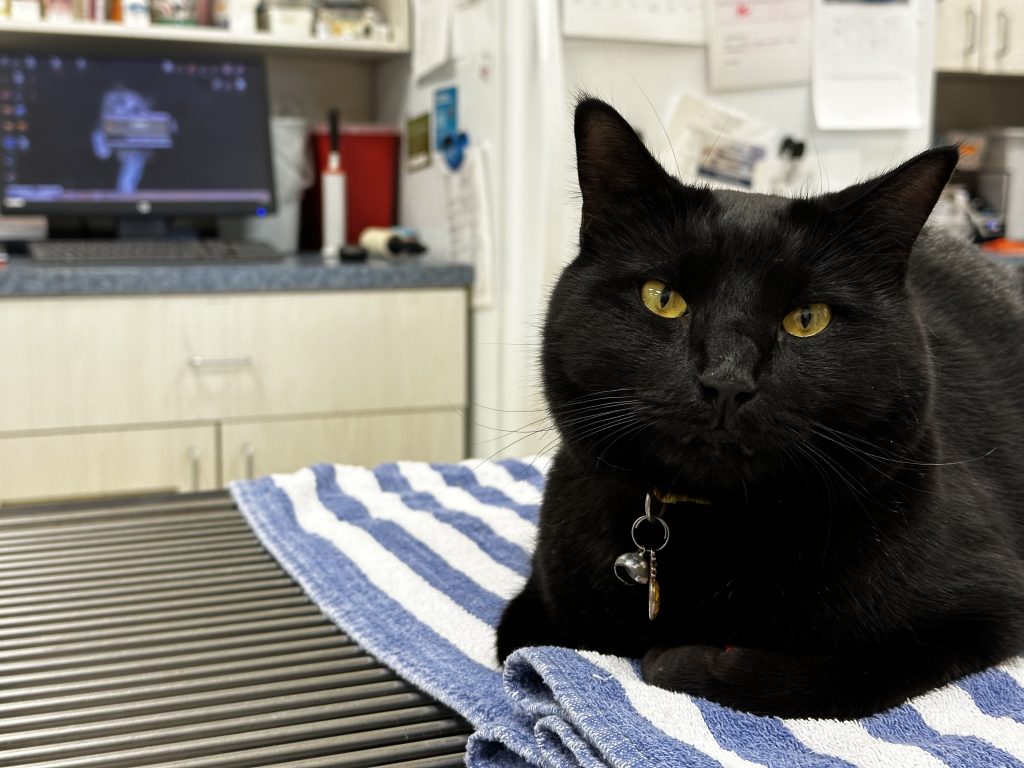 Then they gave me multiple personalization options. I could replace edible items with toys. Wow! This cat vet approves! What a great option for cats who are on special diets. 
Once a year they include a free birthday toy in the meowbox and asked me about Panther's birthday month. 
Lastly, I got to choose the theme of his first meowbox (or make it a surprise). Here were my choices: 
Spaw Day

Backyard Meowasis

Meowrine Life
Which do you think I chose? I picked……….. Spaw Day because Panther deserves a little pampering, of course. 
Finally, at the end when you're all excited about the meowbox subscription they offer you some add-ons. Yes, I added on. 
I added a bottle of Pinot Meow liquid catnip for $6.49. Oh yeah! It's party time now!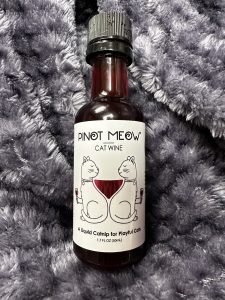 All total I spent $25.95 + $6.49 for the catnip + $0 for shipping + $2.11 tax, equaling $34.55. 
meowbox also has a shop online offering a variety of items that have been tried out in previous meowbox editions. If your purchase is under $25 then shipping is $2.99. 
Have a favorite toy in your subscription? You might find it in their shop. 
Have more questions? Check out their FAQs page. 
Ok, I immediately received an email letting me know what to expect…"Hi, Amber and Panther!" (aw, Panther got mail). 
We patiently waited about a week for his first box to arrive. Here we go…
Let's Ask Panther: A meowbox Subscription Review
So Panther, what were your first thoughts when you were presented with your new meowbox subscription?!?
"It was a nice cardboard box, a little smaller than a shoebox. I gave it a sniff."
What was in your first box?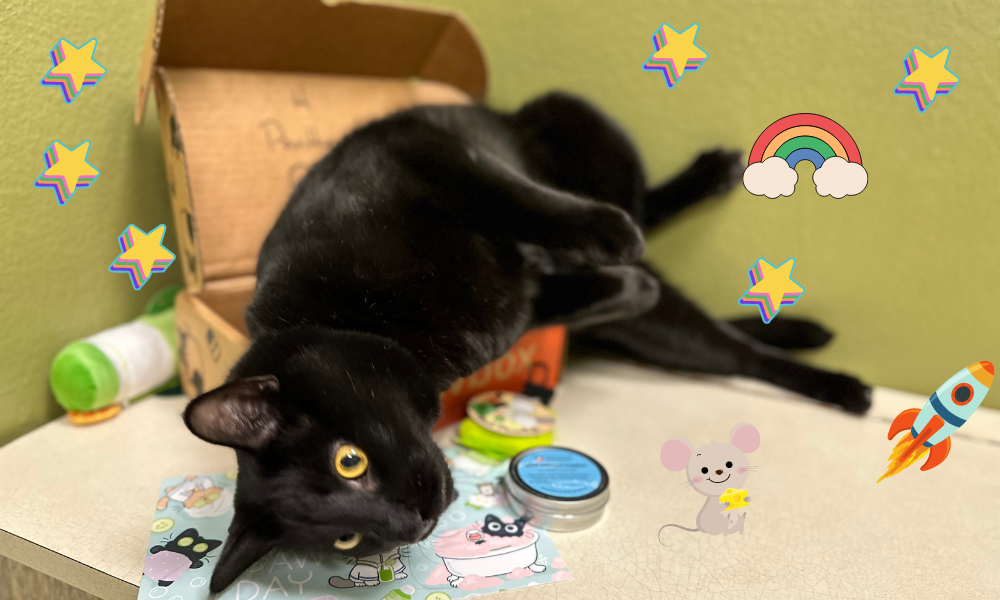 "I'm not sure, because as soon as the box was opened I was suddenly transported to a hypnotic land of rainbows, spaceships and dancing mice with flashing eyes."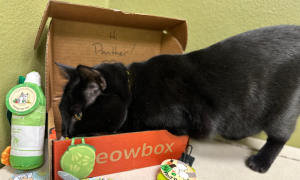 "Man, they must've sprayed something on that box. I even tried to fit myself inside it." 
"Once I calmed down and took a breath, I examined the contents one by one. I loved the spa theme. It suits me." 
"I got FIVE spa-themed catnip toys: nail polish, an aromatherapy candle, a cucumber mask, a bubble bath and a healthy green juice bottle. Oh, and a cute container of 100% wild salmon." 
As we all know, one can never have too much catnip.
Ok, but how did it make you feel? This is a meowbox subscription review. What do you want your fellow cats to know? 
"If you must know, I felt buzzed. I felt excited. I felt like everything was going to be ok in the world. This was followed by an overwhelming sense of calm as I proceeded to take nap #6 for the day." 
Panther, what do you think about this? meowbox says that the "treats in your meowbox are either organic, functional, limited-ingredient, or grain-free, and made in human-grade facilities. Forget run-of-the-mill pet store toys: You won't find most of the goodies in your meowbox anywhere else."
"Cool. You know what else is organic? A mouse. I'd like to hunt one but no one will let me. So these toys were a great substitute to allow me to meet my hunting needs. I attacked that aromatherapy candle like a tiger attacks a wild boar."
Did you like the treats? 
"The salmon was fabulous and paired well with my Pinot Meow."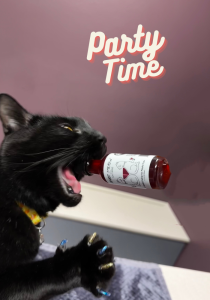 Did you know that for every subscription box ordered meowbox donates a can of food to a shelter cat? 
"How thoughtful. I was a shelter cat once. My original name was Cocoa. Not sure who came up with that one." 
Ok, almost done. Do you recommend the meowbox subscription for other cats? 
"I do. Cats get bored easily. We need both mental and physical stimulation every. single. day. When we don't get enough of that we do unfortunate things, like attack your legs or pee in your shoes. So keep us stimulated, or you'll regret it." 
Last one Panther. How would you rate the quality of the items you received?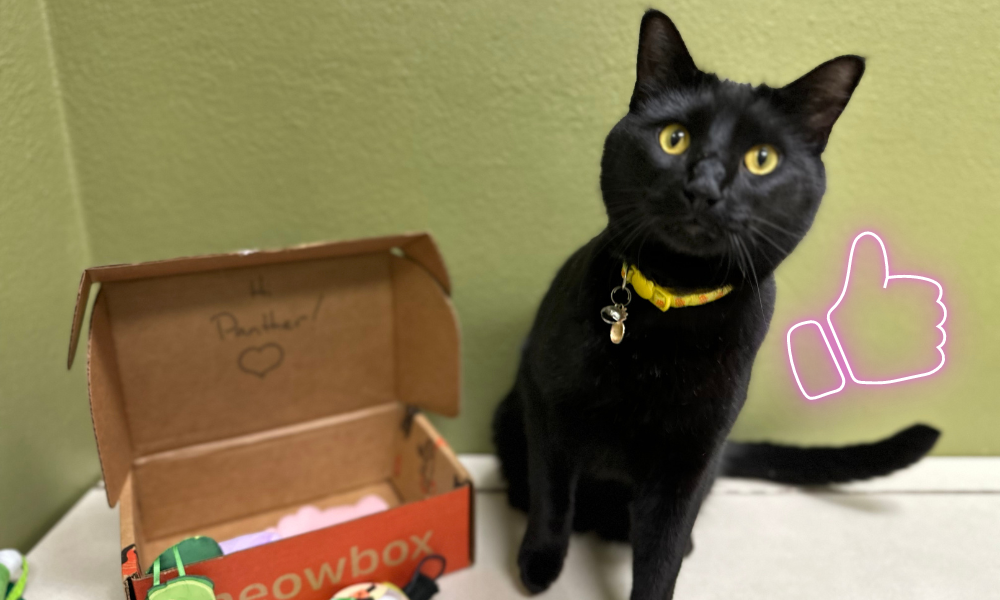 "High quality. I approve. It was PAWSOME!"
Well, there you have it. Panther approves. CatVetLife approves. 
Now go and order your first meowbox subscription and just wait for that look in your cat's eyes! 
They will thank you for it. Or not. 
Have you tried the meowbox? Did your cat love it? Comment below!