It's not too early to start shopping… Have a cat lover in your life (or would that be you)? Join me as we explore Christmas gifts and decor for cat lovers!
I don't think this can be a ranked list because I can't pick my favorite… many of these items are Christmas-themed decorations for your home or your cat-loving friends' home. Then we'll look at some fun non-Christmas-themed gifts (for Christmas or anytime).
*FTC Disclosure: This post contains affiliate links. If you make a purchase after clicking on the links, I will get a small commission at NO additional cost to you. I only recommend products that I believe in! As an Amazon Associate I earn from qualifying purchases. 
Christmas Decor for Cat Lovers
Cat Nativity Scene
I purchased this cat nativity scene as decor for the feline-only hospital that I own. We love to decorate for Christmas and, of course, we keep the cat theme going! These little figurines are just precious, complete with a baby kitten in a manger.

Black Cat 3D Christmas Pop-up Card
One year I sent some of my cat-owning clients these pop-up cards, which are much fancier and more fun than a regular card. It really put a smile on their face.
Inflatables
Ah, inflatables… you either love them or hate them. In my neighborhood, we're fans. No room for Rudolf or Santa here. I have four (yes four) in my yard, including this one.
NOT an ugly sweater!
Nope. This is a super-cute sweater dress for girls ages 2-9 years old. Pair it with some tights or leggings and her Christmas Eve outfit is good to go!
For the Tree
In our clinic, we have a couple of small trees that we like to decorate with these specific cat-themed ornaments. We get so many compliments on them!
Yes, we have a leopard print tree-skirt. Break from tradition… just do it!

All of the above items are ones that I've personally purchased. I could go on and on with cat ornaments.
But wait, there's more! I'm putting these Christmas gifts for cat lovers on my Santa List!
Random Christmas Gifts for Cat Lovers
… Like Wind Chimes!
I love wind chimes and have multiple cat-themed ones. These bronze-colored ones are beautiful and any cat lover would surely love them. I would!

Everyone Needs A Cat Tote
I'm all about totes. Whether it's a reusable grocery bag or just a tote to carry my lunch in, you can never go wrong with bags. This cat-themed tote bag is a really nice size!

Shoes! Ok, Actually Slippers!
Y'all know I love my leopard print shoes. But shoes are so specific. It would be hard for someone to buy shoes for me and have them actually fit. However, slippers are more forgiving. These open-toe style leopard print slippers are suitable for just about anyone.
Water Fountains for Cats
This is a gift that anyone with cats can appreciate! You can go fancy with this beautiful purple fountain or go practical with my current, personal favorite fountain… why? Because it is wireless, and motion or timer activated!
A Cat-Themed Subscription
We all know that if our cats are happy, we're happy. So the perfect Christmas gift for a cat lover doesn't have to be for the human! Get the cat something cool and the human will be so grateful.
I've got some great options for you! Check out my review of Kitty Lawn, a company that provides real grass pallets for your cats, allowing you to bring the outdoors inside.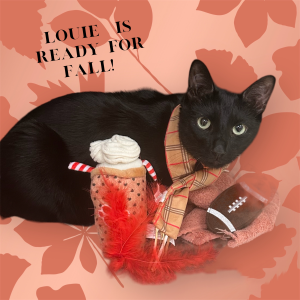 Then there's the meowbox subscription. I can't say enough good things about this company. The ever-changing themes are so cute.
Most recently, Panther (one of our hospital cats) recieved his fall-themed box. He was kind enough to share it with Louie (pictured here).
Y'all, it had a "frappawchino" cat toy, and a "Burpurry" scarf. So cute! PS – Never dress up your cats unless they are the type of cat that really enjoys it… you can tell.
Louie had anesthesia earlier that day so he was a little spaced out for the pic!
Hopefully, you now have some good ideas for Christmas gifts for cat lovers. Do you have any other suggestions? Something fun that is not on the list? Let me know in the comments below!